These past seven years have flown by! From day one, we as a church, have been committed to the creation of a space where all people can explore the intersection of Community, Divinity, and Self. It is hard to summate the beautiful experiences and wonderful opportunities we have seen at Hope Church, but here are some key moments that have shaped us the most!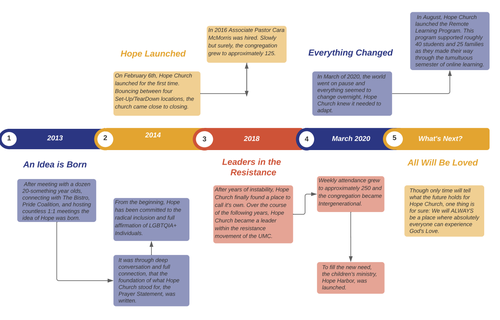 We are a place where absolutely everyone experiences God's Love…

Absolutely everyone. No asterisks. No buts. No contradictions. We believe that all people, regardless of sexual orientation, gender identity, racial background, economic standing, and stage of life, can experience the inherent love of God. As a church we strive for absolute authentic affirmation of all LGBTQIA+ people and we are committed to learning to lead anti-racist lives.

We are a place of theological thought and conversation…

Many who attend Hope are in the process of deconstructing and rebuilding the understandings of scripture and tradition that have been passed down to them. Because of this, we are committed to diving deep into theology, never shying away from the hard "Why's?" and "How's?", and always honoring theological curiosity and biblical discourse. We are all in the process of learning together. It is through thought and conversation that we grow closer to one another, as well as, to the Divine.

We are a community learning to live Christ-centered lives…

As with all sections of our Prayer Statement, there are no exhaustive checklists or universal step-by-step guides that we can follow to achieve a "Christ-centered Life". It is an aspirational journey that we are all on together. As a community we strive to authentically support and empower each other to go out into the world and do good.
Rev. Dr. Jennie Edwards Bertrand
Jennie (She/Her/Hers) is an ordained clergy person in the United Methodist Church, for 23 years. She is passionate about how one's personal practices of faith and spirituality drive community-focused social justice and inclusion, and vice-versa. Throughout her career, she has been and advocate for LGBTQ+ inclusion and rights in the church and state. In 2014, she started Hope Church, a fully-inclusive faith community. Both her Master of Divinity and her Doctorate of Ministry are from Garrett Evangelical-Theological Seminary, in Evanston, IL. She and her spouse built their family through the adoption of two beautiful children.
Isaac (He/Him/His) also known as Ms. Penny Cost (She/Her/Hers) studies Business Management and Religious Studies at Illinois Wesleyan University. He is reportedly the first Drag Queen in the world to be Certified as a Candidate for Ordination within the UMC. Passionate in the fields of community development and social equity, Isaac is committed to working across lines of difference to enact change at all levels of the community. Isaac has spoken to congregations across the United States, Canada, and the UK on the topics of Queer Theology, The Spirituality of Drag, and Our Collective Call to Liberation.